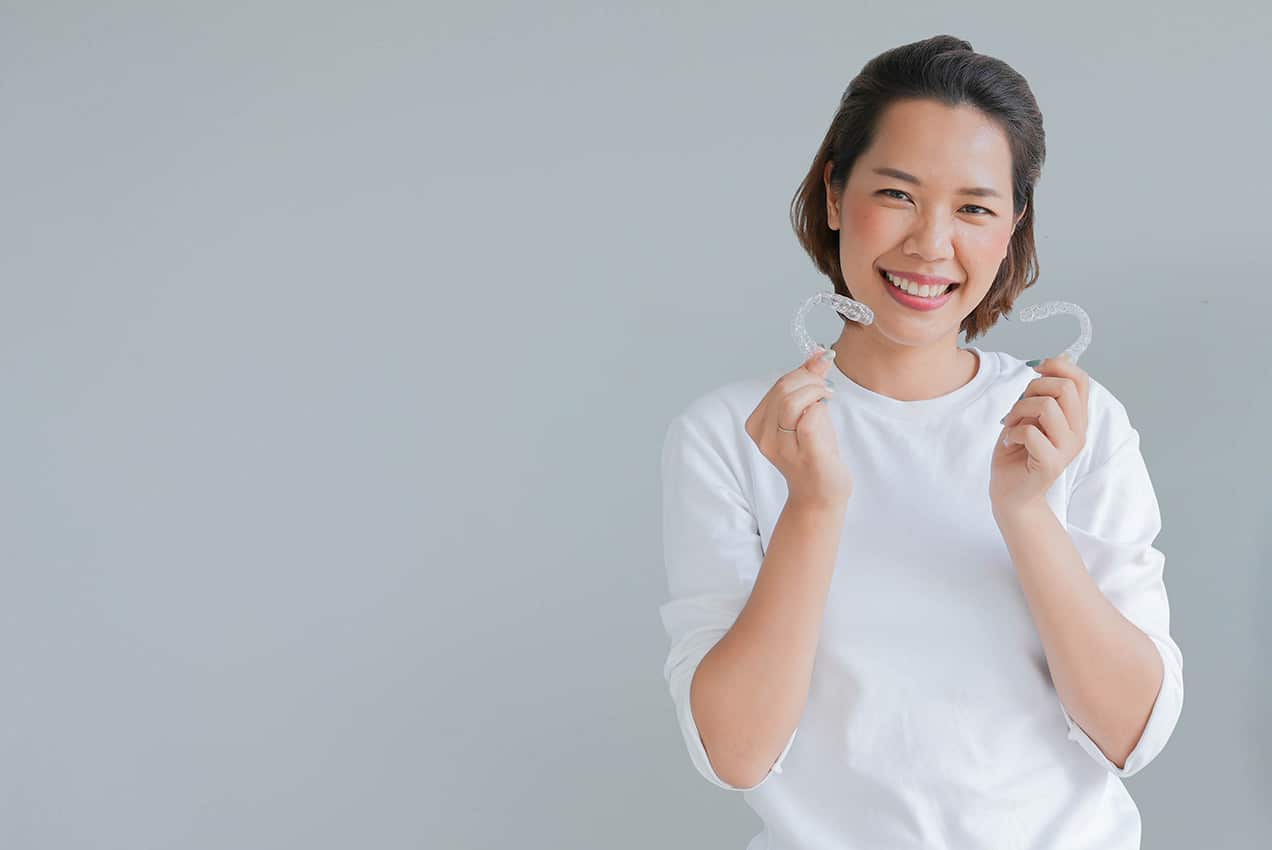 Invisalign in Midland, TX
Your smile is often the first thing people notice about you. Unfortunately, flaws in your smile, such as crooked teeth – can deny you a great first impression. They can also impact your self-esteem and confidence. That is why we offer Invisalign at Refined Orthodontics in Midland, Texas. It is one of the modern-day solutions to achieve a beautiful and confident smile.
What is Invisalign?
Invisalign is a contemporary orthodontic solution that offers a discreet and comfortable alternative to traditional metal braces. It uses a series of custom-made, clear aligners that are designed to fit comfortably over your teeth, slowly guiding them into proper alignment.
How does it work?
Invisalign treatment operates similarly to traditional braces but with a few key differences. You will wear each set of aligners for a prescribed period of time, typically one to two weeks, only removing them for activities like brushing, flossing, eating, and drinking. Over time, you will progress to the next set in the series, allowing your teeth to shift into their desired position gradually.
Why is Invisalign a Good Choice?
Invisalign is a highly sought-after alternative to traditional braces due to its discreet appearance. The Invisalign clear aligners are a more subtle approach to orthodontic treatment, making them a popular choice for those self-conscious about their appearance during treatment. Additionally, Invisalign allows for greater flexibility as the aligners can be removed for eating, brushing, and flossing.
We Can't Wait To Meet You.
And give you the smile you deserve. Book your appointment today!
Why does Someone Need Invisalign?
At Refined Orthodontics, we believe that Invisalign aligners are a top choice for many orthodontic issues. They provide a convenient solution for those looking to correct their smile while maintaining oral hygiene. Whether misaligned bites or crowded teeth, Invisalign can effectively solve these common problems while addressing speech, jaw discomfort, chewing difficulties, and protecting against excessive tooth wear. Our patients range from kids to adults, and under the expert care of Dr. Bonolo, we ensure that each custom-made treatment plan will produce the best possible outcome.
Who is a Good Candidate?
It is typically recommended for individuals seeking a discreet and convenient way to straighten their teeth. Here are some common characteristics of good candidates for Invisalign:
Adults or teenagers with mild to complex orthodontic issues, such as crowding, spacing, or bite problems

At Refined Orthodontics, we also offer Invisalign first, which is an aligner treatment for kids aged 7-10 years old

Individuals who want to straighten their teeth without the noticeable appearance of metal braces

People who are committed to wearing the aligners as directed by their orthodontist, typically 20-22 hours per day

Patients who are motivated to maintain good oral hygiene during treatment

Individuals with a good understanding of the Invisalign process and the expected outcomes.
Dr. Bonolo of Refined Orthodontics can help you determine if Invisalign is the right option for you. With a comprehensive evaluation, she can assess your oral health and recommend the best action to achieve your desired smile.
How can Invisalign Correct Someone's Smile?
Invisalign aligners don't use metal braces. The Invisalign process begins with a consultation at Refined Orthodontics, where Dr. Bonolo will use digital images to create a 3D impression of your smile using an iTero scanner. This digital impression is then used to custom-design a series of clear, comfortable aligners tailored to your unique needs.
During treatment, you'll wear each set of aligners daily for 20-22 hours for approximately one to two weeks, gradually moving your teeth into their proper positions. This process continues until you achieve the desired outcome – a beautifully aligned, confident smile. We believe everyone deserves a smile they love, and Invisalign can help us make that a reality for you.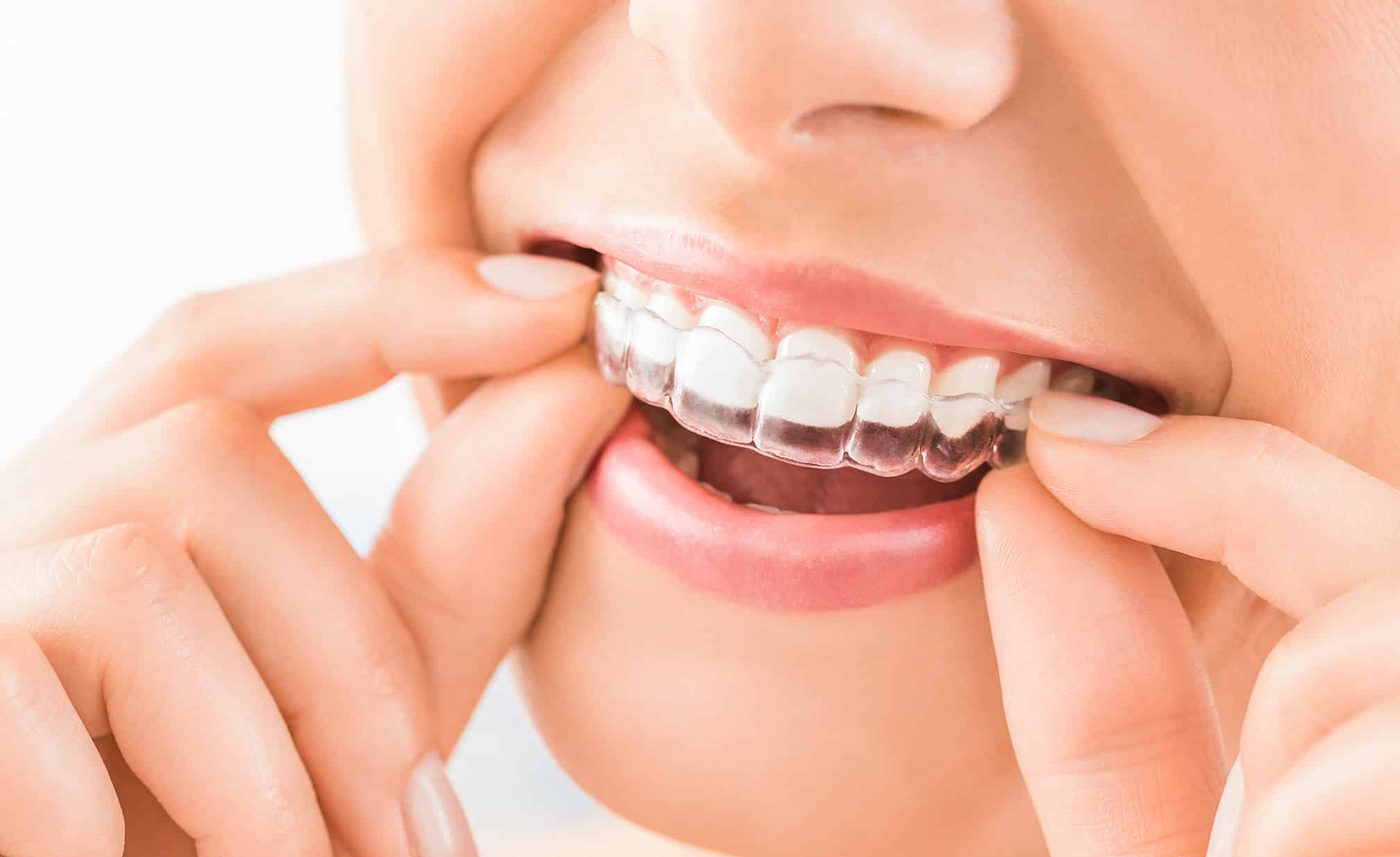 What are The Benefits of Using Invisalign?
Invisalign offers several advantages over traditional orthodontic treatments, including:
A Radiant Smile:

The clear aligners gently shift your teeth into proper alignment, resulting in a straighter, more aesthetically pleasing smile that can boost your self-esteem and confidence.

Improved Oral Hygiene:

Unlike traditional metal braces, Invisalign aligners can be easily removed for cleaning, making it easier to maintain good oral hygiene and prevent decay and other dental problems.

Discretion:

The clear aligners are nearly invisible, making them an ideal option for those who want to straighten their teeth without anyone noticing.
At Refined Orthodontics, we're dedicated to helping you achieve your best smile. With Invisalign, you can enjoy all the benefits of a straight, healthy smile without sacrificing your appearance or lifestyle.
What Other Orthodontic Options are Available at Refined Orthodontics?
Our team of experts, led by Dr. Bonolo, will work with you to determine the best treatment plan that meets your goals and lifestyle. Let's explore the options we offer:
Traditional Braces:

A tried and true method, traditional braces utilize metal brackets and wires to realign the teeth over time gently.

Invisalign:

The clear choice for those seeking a discreet treatment option, Invisalign uses custom-made, clear plastic aligners to straighten teeth.

InBrace:

Similar to Invisalign, InBrace is an esthetic option that uses braces that go behind the teeth to straighten teeth, thus making them completely invisible. Our team will advise which option is best for you based on your needs and preferences.

Airway Orthodontics:

Our comprehensive approach to orthodontics considers the relationship between your teeth and your breathing. This innovative treatment plan is designed to improve oral health and overall well-being.

Surgical Orthodontics:

For more complex cases, we offer surgical orthodontics, which involves corrective procedures to realign the jaw and teeth, providing a solution for dental and skeletal irregularities.
Book an Appointment with us Today.
At Refined Orthodontics, we believe that every smile deserves the best care. That's why we're proud to offer a wide range of orthodontic services tailored to your needs. With a team led by board-certified dentist Dr. Bonolo, you can be confident that you'll receive the highest-quality care. If you're ready to learn more about how we can help you achieve a beautiful, confident smile with Invisalign, call us today to schedule a consultation in Midland, TX.